Don't you agree that the seasons are merging more and more? Christmas 2015 was warmer than Kingsday (NL) 2016, the summer this year was, apart from a heat wave, mediocre. But September was exceptionally warm again! In short, the "outdoor season" seems to be going on longer than before. Reason enough to have a party in the garden even in winter. In this article, we're going to give you useful tips and list some must-haves to keep you warm during your garden party this winter.
Phase 1: preparation
1.1. Covered and protected
1.2. heater
1.3. grill
1.4. decoration
1.5. Invite guests
Phase 2: garden party itself
2.1. Prepare and decorate
2.2. drink
2.3. eat
2.4. entertainment
2.5. safety
Phase 3: The day after
3.1. Maintaining garden tools
3.2. Store garden tools
Phase 1: preparation
Of course, a good winter party starts with the right preparation. We have listed five topics with different products that you should preferably bring home in good time so that you can celebrate carefree.
1.1. Covered and protected
The weather in autumn in Europe is very unpredictable. From warm rainy days to cool sunny days, there may or may not be frost. When planning a winter party, you don't know beforehand what weather conditions to expect. In any case, it is advisable to have proper roofing. Many people have a permanent canopy at home. If you don't have one, you can also use a party tent or pavilion . The advantage of a roof is that you stay dry when it rains and the warm air is trapped under the roof
This brings us straight to the second point of preparation: heating. If you would like to enjoy your garden in winter, we strongly recommend that you purchase a patio heater. Terrace heaters come in different shapes and sizes. The gas and electric variants are the most popular. You will find our various models in the garden furniture department in our megastore and in the webshop.
Gas heating
Our gas heaters are actually all suitable for patio heating. If you place the heating in the middle of the terrace, the heating will have a range of approx. 50 m2. We do not recommend placing the gas heater under a canopy or veranda. A gas heater is approximately 220 cm high. In addition, these need an additional 40-50 cm so that the hot air can be safely distributed.
Electric heating

An electric heater has a shorter range than a gas heater. Mostly this range is about three meters in width and five meters in length. An electric heater glows. Please ensure that you hang the heater so that nobody can look into the stove. Many people think that the energy consumption of an electric heater is huge. We like to compare it to a beer, around 2 per hour.
A so-called Swedish fire is also wonderfully warm, but maybe a little too cold for a cold winter's day. You can find a special blog for this on our website.
Plaids / fleece blanket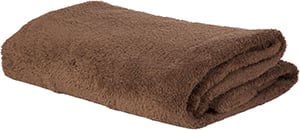 Fleece blankets are available in different colors and fabrics and are simply part of a winter party. When it gets colder, you can cuddle up comfortably. You can of course also use plaids and fleece rugs indoors. Convenient and you also save heating costs. In our range you will find beautiful plaids that will keep you nice and warm.
In winter, barbecuing is not only cozy, it is also very trendy. It will also make your guests warm. The grill itself gives off a lot of heat and of course the dishes you prepare on the grill are warm too. By the way, not all grills are suitable for a winter BBQ. If your grill has a lid, you will have few problems with the cold. Would you like to learn more about the right winter grilling? Then read it on our blog: How to organize a winter barbecue
1.4. Decoration
Now that you've largely laid the foundation, it's time to take care of the details. The decoration creates the right atmosphere at a party. You can choose a special theme, with winter being a theme in itself, of course. In any case, make sure you have enough mood lights such as fairy lights or solar lamps. Garden cushions can also provide the necessary atmosphere. You can of course also use old winter sports equipment that you may still have in the attic. In addition, a handful of artificial snow brings the icing on the cake.
1.5. Invite guests
The final step in the preparation phase is to invite the guests. If you are working with a theme, now is the time to pay special attention to that theme and incorporate it into the design of the invitations. Data that should not be missing in the invitation are date, time and place. If the neighbors are not invited, it is advisable to let the neighbors know about the upcoming party.
Phase 2: Winter garden party
The most important preparations have been made so that the big day can begin carefree. For the day itself, it's always good to have a short checklist. The following topics will help you.
2.1. Prepare and decorate
Start the day with the activities that are least time sensitive. You cannot eat too early and drinking also takes time to warm up or cool down. Start the day preparing and decorating the garden. You already have all of your belongings at home so this is a breeze. Party tents are easy to set up and ideal for decorating because of the poles. Remember not to put open fires such as fire pits or barbecues under a party tent.
2.2. Drink
Of course, drinks should not be missing at a winter garden party. Classic drinks certainly include mulled wine and hot chocolate (possibly with Cointreau for adults). In addition, normal alcoholic drinks are of course always welcome. If you want to stay in the winter atmosphere, you can expand the range with a delicious dark beer.
2.3. Eat
A drink also includes something to eat, even at a winter garden party. It's especially great for the kids to grill marshmallows over a fire pit. A grilled sausage or stick bread doesn't look bad on a skewer over the fire, but the actual food is of course on the grill. Barbecue enthusiasts take their time and put a good piece of meat on the grill. Are you too busy during the party and can't take care of the barbecue? Then let your guests grill their own meat and fish.
2.4. Entertainment
Eating and drinking should be fun, but if you really want to party, you shouldn't be missing out on the right entertainment. In principle, this is very simple, just connect boxes to your laptop, for example, and play Obelink Radio online. If you really have something to celebrate, you can order a band as well.
2.5. Safety
Since you will be working with heat during a conservatory party, we recommend that you take extra precautions. Preventive measures may prevent a fire. So make sure that you keep the open fire small and do not place the grill under the roof. In addition, it is advisable to have fire protection equipment on hand.
Phase 3: The day after
On the day after the garden party, take the time to comfortably review the last evening. But not for too long, because you know there is still a lot to be done. Once you've gotten rid of all of the scrap and clutter, you can get on with the real work.
3.1. Maintain / care for garden tools
If you want to enjoy your garden furniture for a long time, make sure that you use the right maintenance products. We can tell you all kinds of things about it here, but luckily we have already published an article about it: How do I take care of my garden furniture? .
3.2. Store gardening supplies
Garden furniture and accessories suffer greatly from the changing weather conditions. A lot of sun is harmful to wood and rain and cold are not good for the quality of your garden items. In addition to taking care of your garden furniture, it is therefore important to store it properly. In most cases, people who have a garden also have a shed where they can store things. There are also plenty of other alternatives like storage boxes and rain covers for those who don't have room for a shed or storage room. With the phases listed above and the corresponding intermediate steps, we believe that your upcoming garden party will be a success. If you have any more ideas, don't hesitate to share them with us.